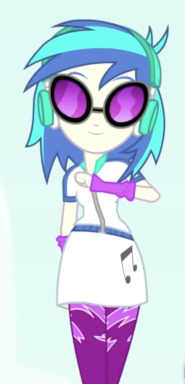 I am... or rather was your average twenty year old male brony. But let me introduce myself first, my name is Mi-... gah! dangit! was Mitchell and my favorite My Little Pony background character is Vinyl Scratch (or DJ-P0N3 for some). One day comic-con showed up in my hometown and instead of going as some silly anime or game character like all the other plebs, I went as the Equestria Girls version of Vinyl Scratch. I know, I know she is a girl but... it IS funny seeing the faces I get.
Anyway, to make a long story short, I bought the last missing piece of my cosplay, which was really just a pair of headphones that looked just like the ones the EQG Vinyl wore during the "Music to my Ears" short. That got me sent to Equestria many years in the past and, after a series of events (It was an accident!), I got myself stuck in stone.
I got out thanks to Dissy. And now that I'm free, I'll be here to spread the wubs! If only those uncool Daft Punk looking ponies would just leave me alone...
Chapters (17)