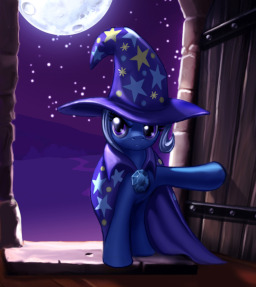 Source
Trixie has always envied Twilight Sparkle's magical ability, wishing she could match her talent one day. With the incident involving the Alicorn Amulet still fresh in her mind as though it was yesterday, Trixie sets out into the woods and practices a wide array of spells, accumulating magical knowledge along the way. Despite hours upon hours of practice, Trixie feels as though it's all hopeless.
However, one of her training sessions is interrupted by a lone traveler who calls herself Starlight Glimmer. Trixie tries to find out who Starlight is, but the latter pulls her along until she reaches a path with two options, both of which have their pros and cons. Such a difficult decision was the last thing she needed.
---
Thanks to Soaring for pre-reading this story.
Chapters (1)