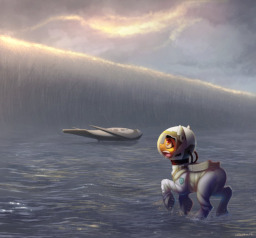 Source
Times are changing fast in Equestria. Everypony including the mane six has had to adapt in order to cope, most drifting apart in the process.
Rainbow Dash and her sister Scootaloo aren't overly fond of their new lives on the farm, but they make do. When extraordinary events prompt Rainbow Dash to head out into space on a mission to save Equestria, their separation pushes their love to the breaking point.
A story about leaving and being left behind, very loosely inspired by Interstellar.
Cover art: 'Interstellar'* by Ferum-LynXx, used with permission.
Prereaders / editors:
- Infinity Shade
- PonyJosiah13
- Unimpressive Vagaries
*does not depict events relevant to Circumstellar
Chapters (3)