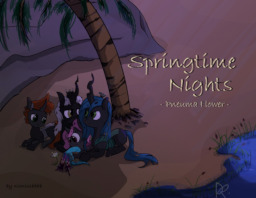 Source
Alpha and Omega, beginnings and endings, life is rife with them.
The relay of Spring, Summer, Autumn and Winter never ends. Birth, Life, Decay and Death. But always no matter what the world never ceases to turn, and as such every spring-rebirth comes to the land. For some this is merely an occurrence, a mundane event, a routine that isn't surprising at all to witness. Others consider it's the most beautiful event in the world.
Both sides are true of course, for you see the meaning of life is not something that you can discover. It's something you choose yourself.
And for the changeling King Ao the meaning of life is hidden within the springtime nights. This spring however, partly because of a bet, his family shall join him in enjoying these moments.
Contest entry for:http://www.fimfiction.net/group/204577/weekly-contests/thread/165522/springtime-nights-contest
We got second place!
For those who want to know more about Princess Sky:http://www.fimfiction.net/story/249299/mommy-mommy-look
Ao and Sky will likely appear here:http://www.fimfiction.net/story/246256/displaced-soul
Awesome new cover art by DavieRocket
Edited by kildeez and MaddiePink5
Chapters (5)