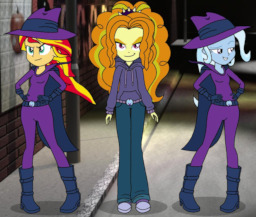 Criminality isn't too high in Canterlot Town, but every now and then some lowlife scum decides to cause trouble, and the police can't catch them all.
That's why the Mysterious Maiden Do Well is here, to make sure no criminal escapes unpunished. She doesn't have one secret identity, though: she has two! Sunset Shimmer, who kicks all sorts of butts with her amazing fighting skills, and Trixie Lulamoon, a very skilled magician who is always ready to create distractions for her and her partner to make their great escapes!
It's not easy to keep a double life, especially when they have to face the greatest challenge of their lives!
---
Original vectors of Sunset and Trixie made by punzil504 and Adagio made by Mit-boy, all of them redrawn by yours truly!
Chapters (6)