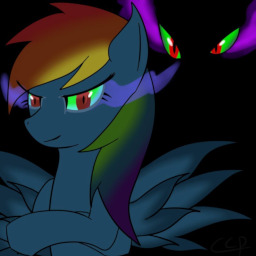 Rainbow Dash isn't your ordinary pegasus. She has a secret ability that ponies thought only unicorns and alicorns could posses. Magic! Not magic like Twilight's though, Rainbow's is stronger. And it's dark magic.
Sorry I suck at descriptions
So I had a weird dream where I saw Rainbow Dash ruling the Crystal Empire like Sombra did and thought, "Hey would it make a cool story if Rainbow Dash was secretly King Sombra's daughter and had a stronger version of his abilities?" So here it is! Not too harsh in the comments please, this is just an experimental story to see where it goes. Helpful advice is always welcome though!

Chapters (9)