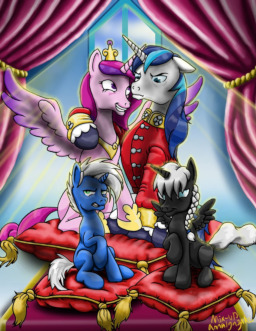 This started as a RP between myself and Nihatclodra, but soon took a life of its own... so we decided to see where it would take us
7/13/2016: THe cover art is provided by the awesome mix-up! Thanks for the great cover! Here's his FiMfic account and here's his devientart account!
---
A Sadistic Mama's Boy and a Highly-Amused Master Manipulator find themselves as foals in Equestria... This sounds like the beginning of a bad joke. Good thing it's the beginning of a hilarious joke then, eh?
Come, watch as these Man-foals fuck with the whole of Equestria.
Come, see as Hilarity ensues around them.
Come, read what these two authors write without thinking whilst somehow making a good story.
Come, join the Co-Conspirators in alleviating their Boredom.
Chapters (4)