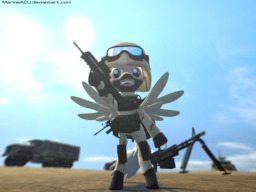 Source
Frost Was a human who was brought to Equestria to lead the Eqestrian army to victory agains the griffons.
Midnight Jaze is a unicorn who was just drafted from the Canterlot magic academy as a battalion commander. Fresh out of school, can he take the pressure of the largest war in the history of Equestria?
My first Fic. Criticism is welcomed. Frost and midnight Jaze are both my OCs.
Chapters (13)