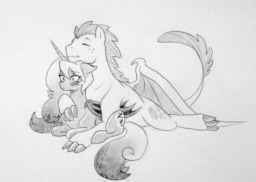 This story is a sequel to Fading Memories Create New Ones
---
Ever since their wedding, Princess Nidra and now Prince Turquoise Blitz are expecting anything to appear. But when Nidra suddenly becomes pregnant, they never saw it coming. Even when it happens twice. This is the tale of Nidra's parenthood.
---
IT'S FINALLY HERE! I know most of you were anticipating this and were disappointed at the setbacks put this through but here it is! I hope you enjoy!
Rated teen for language.
Chapters (12)