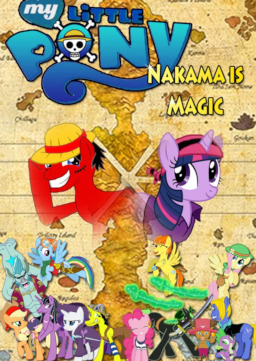 A crossover story with My Little Pony: Friendship is Magic and my favorite anime/manga, One Piece. But it's not just these two. It's a whole new world with new characters to interact with the Mane Six and Spike. Stay tuned for adventure and friendship in this new and alternate telling; My Little Pony: Nakama is Magic!
Poster and characters besides the Mane Six and Spike done by Moheart7 or Inkheart7 on dA
The Epilogue - The Straw Hats are off, but there is much still to tell. Events are moving forward beyond are cast's knowledge. What lies ahead, who knows? "New Straw Hat Pirates Saga" end
Author's note: I would like to thank you all for reading, reviewing, suggesting, and just being brilliant. I wish you the best of luck in all your endeavors!
And one final thing, should anyone ever have that inspiration to write, and they want to see this story continue; you have my permission. Do as you like: invent your own story - epilogue be damned.
Chapters (34)