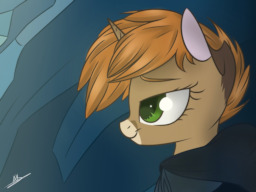 Source
It had been a long time since Gari had seen her Mother-even longer since she had heard her voice. She had known her Mother before she had transformed into Nightmare Moon, and now, she would see her again. Gari would always remember the beautiful mare that saved her life; the wonderful pony that made her who she was. She would always remember her.
Now, if only her Mother would remember her, too.
Dedicated to DavieRocket, whose loyal dedication to Lyra is as amazing as his art.

The cover art is by TheZealotNightmare and is used with his permission. All credit goes to him.

This story is part of an art trade with BlndDog for the cover art for Council of Five, and serves as a backstory to his story: Of The Last Millennium. However, it can be read as a stand-alone.
Chapters (1)