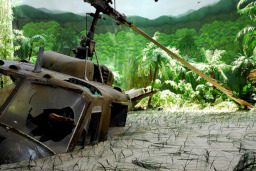 The three are surprised when the see they aren't in the now war torn United States of America. Tyrin, the leader of the group, has now been out in a position where his knowlege of HiE fan-ficion is now a survival guide for the three. He knows one wrong move could make them look like monsters in the eyes of the ponies and is trying to find a way to keep that from happening.
I might go through and rewrite the first couple of chapters because my writing has improved significantly since I first started this fic. Until I do I ask any new readers to sit through the first chapters.
Also the general description is due to change anytime now as the nature of the story has changed as well.
Chapters (33)