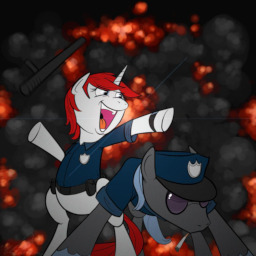 Source
Every department has them. The standouts. The supercops. The other guys. And for some reason, there's always one or two of THEM... a pair of loose-cannon cops who refuse to play by the rules, taking the law and throwing it in cuffs right alongside every mook and petty criminal they've apprehended on the mean streets of Ponyville.
These are the reports of two such officers in the Ponyville Police Department, Officer Cherry n' Berries and Officer Dodge Charger. Two officers that seem as determined to uphold law and order in town as they are to rip the place to shreds, upholding the hell out of law and order in town.
Image courtesy of TapeDiggity.
Chapters (10)