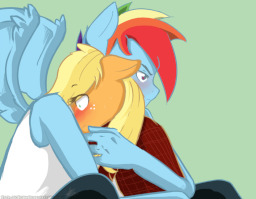 Source
Before her father died, Applejack made him a promise: She would watch over the farm that had housed her family for generations, and keep her own family safe. After one promise escapes her clutches, she will vow to keep the second until she is able to continue the first.
~♥~
WARNING: THIS IS AN APPLEBLITZ!!!!! I know it isn't the most popular pairing but my fave pairing is Appledash but it feels weird writing about two girls

Please, please, please, please, PLEASE, do not down vote if you do not like the pairing, PLEASE! Vote down if you don't like how the story was written, and then please tell me what I did wrong.
It's a bit rough in my opinion but please rate it fairly, and tell me so I can improve my stories.
Cover art is NolyCS's
Chapters (1)