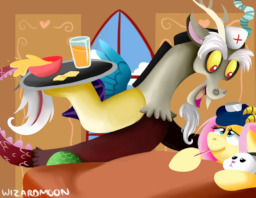 Fluttershy is sick. Her animals need to be taken care of, her house needs some serious cleaning, and she needs somepony to take care of her while she coughs up a lung. Luckily, she has five amazing friends who are more than willing to help.
Discord wants to help, too. He learned his lesson: you take care of your friends when they're sick. He might have learned that lesson a bit too well, because he's going to take care of Fluttershy in his own special way.
And the rest of her friends had better butt out… or else!
Edited by: Level Dasher
Cover Art by: Norm
Chapters (1)