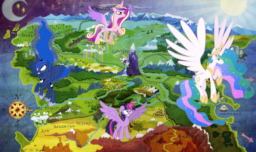 Celestia always protected Equestria, she was the immortal ruler of the greatest nation ever to exist. Her ponies adored her for spending gracious light and the other nations feared the unknown powers that may lie behind her tender smile.
All of Equestria thought it would become a new golden age after the return of the princess of the night, but it was only the calm before the storm.
Chrysalis, the queen of the changelings, managed to put a crack in the picture of the impregnable Celestia. And naturally, when there is blood in the water, the sharks will come.
Tirek was only the first to challenge the rule of the two sisters. And now, with the elements of Harmony gone, Equestria is weaker than ever before.
A storm is about to befall the land and every pony must unleash all its strength if they want to last. After one millennium of peace, ponies must go to war.
---
Special Thanks to Basic Information for giving me his honest thoughts on what I write. And thanks for taking care of the Apple's accent, I'm no good with that. ^^
On hiatus until further notice
Chapters (4)