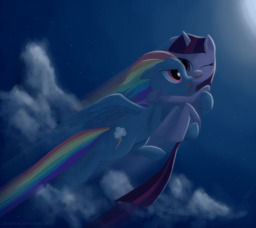 It's been a very, very long time since that first time Twilight Sparkle first stepped foot into Ponyville. It's been almost as long since the day of her wedding; a day nopony saw coming. The part they saw coming less than that was that the lucky "stallion" was Rainbow Dash, of all ponies. Of course, they lived the happiest lives they could possibly live together. But what happens when that life ends?
Twilight Sparkle is dead. Rainbow Dash has had this fact pounded into her skull over and over again, and on the day of her funeral it can't be denied any longer. As all her friends' attempts to console her go awry, the widow Dash is forced to confront the hole left gaping in her life with Twilight's absence. As Dash's thoughts spiral downward further and further towards the unthinkable, Applejack leads a last effort to re-kindle the spirit of her old rival.
(Image taken from primedawg9170 on Ponibooru)
So, uh, yeah! This is my first pony fic, ever. Hope you guys enjoy it.
Chapters (14)