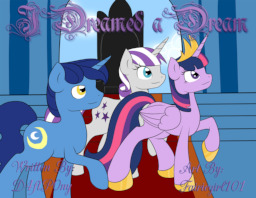 Twilight Sparkle has been given many opportunities in her life. First she was Princess Celestia's prized student, then the Element of Magic, and most recently she was crowned a Princess of Equestria. Indeed, she has always been a very competent mare who has always been at the right place at the right time to do exactly what she needed to.
Many would chalk her success up to her extraordinary talents and uncanny brilliance, and they would be partially right. Twilight Sparkle's talent, drive and ability have allowed her to move upwards in her life to heights that she had only dreamed of reaching before, and truly no other mare could have done such a thing.
But anypony who thought that was the whole story would be sorely mistaken. Behind the new Princess is a family who loves her, a support group of friends and loved ones who are always there to hold her up if things get too tough... as well as a surprisingly large network of ponies who have placed all of their hopes onto the young alicorn's shoulders.
Because Twilight Sparkle's dream is not hers alone.
Chapters (1)