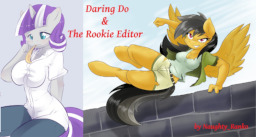 Twilight Velvet, acclaimed author and proud mother of two, has been given a new task by her publisher. But her first assignment as editor for a fresh, young writer may prove to be more than she bargained for, as it turns out the submission isn't as fictional as she thought.
A chance encounter that will lead to the team-up of two dream authors, the creation of the most beloved adventure series in Equestrian literature and the beginning of a life-long friendship.
Everfree Northwest 2015 Pre-Con Contest 2nd Place Winner! Thank you so much, everyone!
Big thanks to Daedelean for proof-reading.
Cover Art is a composite of artworks by Dreamcastworks and Ambris. (Note: This is NOT an anthro story. I just liked these pictures as a cover.)
Chapters (1)