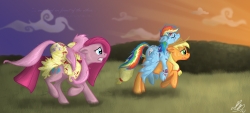 Sometimes, when you've lost so much, when everything you do seems to come out wrong, and when you don't feel like anything but a failure, it can seem like there is no other option but to give up.
But when one pony feels so lost, so inconsolable, so forlorn, that she makes a life-changing decision that almost leaves her shattered forever, it is up to her friends to bring her back.
When you lose something that you can't replace, when you love someone but it goes to waste, and when the tears come streaming down your face, is there anyone who you can turn to...
...to fix you?
Chapters (6)