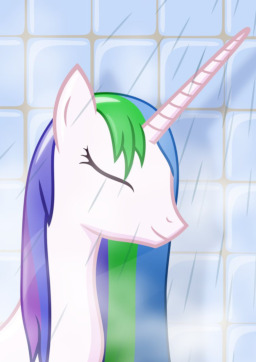 Source
Ever since the Gabby Gums Gossip column ended, most of the articles' exaggerations were forgiven and forgotten. Among those was an article titled Celestia: Just Like Us? With that wiped, the subjects of Equestria quickly went back to raising Celestia up on the pedestal of princess-hood that very few could ever hope to attain.
Her thoughts about trying to fit in with her fellow ponies are carried with her to an evening shower.
---
Rated "Teen" because the reader will be exposed to a naked woman in the shower. Seriously, kids, don't peek.
Art by Arvaus.
Chapters (1)