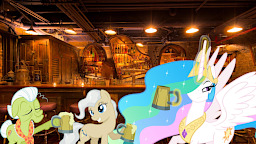 Celestia has ruled over Equestria for over a millenium. Granny Smith kept a close eye on Sweet Apple Acres for centuries. Mayor Mare's tireless work kept Ponyville from collapsing into complete chaos most of the time. All of them do their best to keep their heads level in a topsy-turvy world, but even they need some time to wind down.
But how? Do they get drunk together and participate in wacky shenanigans?
In a word? Yes.
This is a side story to Letters From an Irritated Princess. Knowledge of it shouldn't be required to enjoy the story, but it can't hurt, either.
Cover art generously provided by Zaid ValRoa. Thanks a bunch!
Chapters (4)