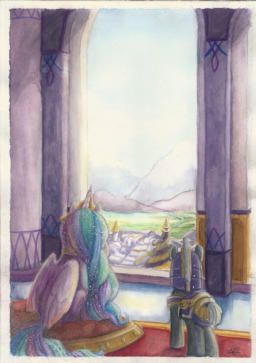 Funny isn't it? Everypony thinks Equestria is a utopia, a place of friendship and magic where everything is just fine. But all you see is Ponyville and Canterlot. Wonderful cities to be sure, but didn't you notice how the rest of Equestria is different? Unfortunately all your world sees are propaganda reels from our universe. But even then, you can surely see the difference.
Perhaps you've noticed how the country isn't run as such. Of course we have princesses, but when they hold court all they do is solve small disputes, little issues, they help two enemies become "friends". They resolve matters of the greatest important to the individual, but of no importance to the nation. If they did anything it'd involve stumbling into a town, forcing ponies to shake hooves and hoping for the best. There are no real laws, the only law here is friendship.
Perhaps this system works. I'm certainly no authority on the matter, but I'd like you to entertain the idea that it could be improved. Just a thought. Oh but what do I know? I'm only a lieutenant in Her Majesty's Royal Guard. I am a pawn in their machine, ready to do their bidding, absolutely loyal to my celestial masters.
All I suggest is that someone should help them fix Equestria. Someone who can look beyond friendship. Who me you say? Forgive me, but I am but a guard. I pledge only to do my duty, that is all. Whatever that may entail...
____________________________________________________________________________
Disclaimers and additional notes:
One doesn't need to have seen or read either version of House of Cards or have an intimate understanding of politics to understand this story. It is only a parody in the loosest possible terms, that being it is about power and politics.
This story is not meant to endorse or reflect any real world political opinion or candidate. It is a work of fiction based on my observations of the political landscape in Equestria and the absurdity of such a society.
As I began writing this in 2014, the canon may differ from the show. I have attempted to keep it accurate up to at least season 4. There are certainly references to things that happen later than that, but beyond a certain point I'm pretty loose with show canon.
Not sure if all tags are correct, will edit as required.
Art by: Nightjarish
Instagram: http://www.imgrum.net/user/nightjarish/3448427025
Deviantart: http://viv-chibi-love.deviantart.com/
I don't think I could have ever asked for such a good artist. It's such a pleasure to have your work as a cover for mine.
Prereader: Azure Drache
I cannot give enough thanks to this guy for putting up with my crap and helping make this the best story possible. It's been a real labour of love for the both of us and a real pleasure working with him.

Chapters (27)