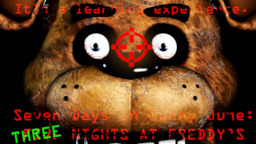 This is an interquel to Seven Days in Sunny June, Book III.
---
Summer jobs. Every teen must have them, even teenage Canadian child soldiers who are trying to blend into the community of Canterlot, California. For Adagio Dazzle and her sisters Aria Blaze and Sonata Dusk, it's no different. So when their mentor and guardian Madrigal Storm insists they do, they're at a loss of how to proceed next.
Fortunately, there's a small pizzeria in nearby Sunnytown hiring night guards at well above minimum wage, no experience necessary. What harm could it be?
---
Chapters (7)