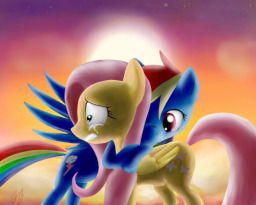 I'm not you. Your Rainbow, and I'm Fluttershy, were quite the opposite. But through the years I wonder why I still love you still even though you were arrogant and selfish.
I stood with you because I love you, and I will stand with you in your dying moments.
Edited by Jubillee Guilder!! Here's the link to this wonderful user:http://www.fimfiction.net/user/Jubilee+Glider.
(Flutterdash.)
Chapters (1)