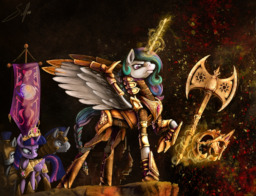 Source
In ages past, just after the defeat of Discord, Princess Celestia, Princess Luna and Commander Hurricane thwarted an invasion of Infernal beings from Tartarus bent on capturing Equestria's magic and enslaving her people. The cost of victory was high, though, and while Celestia has persevered through countless crises since then, the losses on that Infernal battlefield haunt her to this day.
But Paul Harken, a modern-day student of the occult from Earth, will soon give Celestia a chance at the salvation she so desperately desires, even as Equestrian history threatens to repeat itself. While attempting to summon the demon who ruined his life, an error in the ritual instead delivers Twilight Sparkle into Harken's summoning circle. At first confused and then concerned, the pair finds themselves on the run, pursued by a secret order of demon-hunters, and their desperate attempt to return Twilight to Equestria only plays into the hands of a far older and more sinister foe.
---
Now with editing goodness provided by the insightful and observant Fana Farouche!
---
Cover art by the insanely talented SilFoe and used with permission -- check out her gallery, she's awesome!
---
[Gore] for battlefield scenes and rare appropriate moments, not overwhelming or gratuitous bloodshed.
[Sex] for innuendo, references and a bit of tension. Nothing more graphic than PG or so.
There's no [Tragedy] tag, but this is going to be a bumpy ride, and you can count on bad things happening to good people/ponies before it's all over.
Chapters (12)