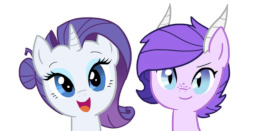 Source
It's Crystal Clarity's birthday, all of her friends and family have come to celebrate with her. At the end of it all, her dad, Spike, gives her a gift that is long overdue; One that'll last a lifetime.
Character's owned by Kilala97
This story is something that I thought about on my own, and kilala has no picture of this, it's sorta something I thought of one day while I had nothing better to do.
Chapters (3)