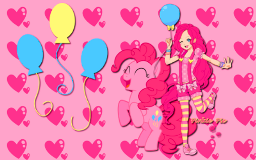 This story is a sequel to The Girl Withing the Pink Balloon
---
I found a blue balloon on my bed, and an envelope on my pillow. Within the envelope, I find a message and an invitation; written by Pinkie Pie herself.
Upon accepting the invitation, I have a visit from Princess Luna herself. That's my escort, right there. How could I refuse now?
If only I had known when she was coming, or where she was taking me, but as it went down, I had no idea. How could I?
I can't say I knew of either of the Equines by any means. Not that I am the girl who believes, or follow people I don't know, yet this time, I ended up going with her either way. Mainly, because I wanted to.
Chapters (1)