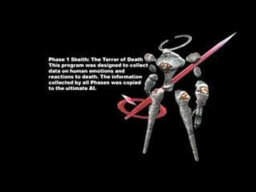 Hi, name's Marvin.
Well, it was my name back home. Nobody has called me that in a long time now.
When I got invited for the next RPC, I got really excited. Though something, that I wouldn't have dreamt of happened to me. You see, I met this rather odd fellow, who called himself "The Merchant". He said he could help me to perfect my costume and I actually bought something from him.
Not exactly my brightest Idea.
Anyway now I am stuck in a land of anthromorphical horse-people.
In this strange new world I'm now known as Skeith, Terror of Death, the Shadow..., let's say I go by a few names.
While I tried to work out what happened to me, I fought quite a few Villains, though I never killed anyone.
Why then am I so feared by this worlds Inhabitants, you may ask. The answer is simple. After all my powers corrupt quite easilywhich let's me tend to lose control. It's like playing a non-lethal version of russian roulette.
After I conceded to imprisonement, to protect the people of this land, I simply waited. But soon I will walk these lands once again.

Seeing as this is my first time trying anything creative in years, I will appreciate any criticism you have.
Please comment on what you think about this story.
Chapters (1)