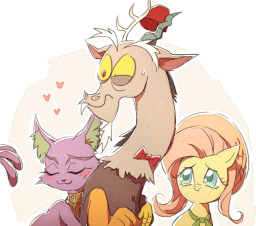 This original side story is my entry for Equestria Daily's SHH&HLE event. It is an anthology of short stories featuring as many ships as I can shake a stick at, but has the advantage of most of the stories not being connected, so readers can enjoy the ships they support, and skip the rest. The connected stories will be indicated by their daytimes, and list one pony in a pairing twice. Also, fair warning this fic features nearly all of my original characters. Do try to keep track. Ready? Lets go!
It is the first Hearts and Hooves Day since the return of the Crystal Empire and the Crystal Heart. The day is young, and many a mare or stallion see a great opportunity to get together with her or his intended beloved, at least for the day. Join Princess Cadence, Shining Armour, and the other married couples of 'FiM' as they tell the tale (or tail) of what can happen to many a heart in just one day!
Any evaluations you might have on this fic would be appreciated, even though it is clearly a shipfic. Just know that if you only give a Like or Dislike, I cannot really use that as feedback to improve my next effort, which is likely to be the Third Gear main story. Anyway, if you have anything you would like to share, please do leave a comment below.
Note: No, Ba'ast isn't in this one. It's just a fun picture, and it seems I like to cause a little chaos myself now and then.
Chapters (15)