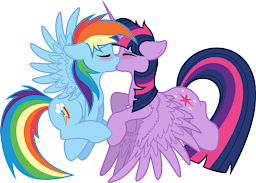 FAIR WARNING: THIS IS SIMPLY A SHORT CHEESY POINTLESS ROMANCE BECAUSE I FELT LIKE IT.
On a night of stargazing, Rainbow Dash and Twilight are wrapped up in the beauty of the night. But the internal and external beauty of each other will surface, and feelings will make themselves known.
Before you say it; TwiLuna is my fav ship but I thought this up on the fly because I was running late for a story, cut me a bit of rope, slack, whatever you blagedagers call it.

This, my friends, is just a cheesy romance because come on, it's Valentine's Day, it's all about cheesy lovey stuff.


----
Chapters (1)