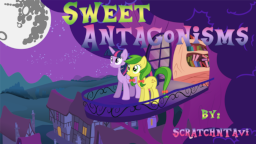 Source
Applejack invited her cousins Apple Fritter and Apple Cobbler to help out this cider season. Only Apple Fritter arrives and meets Twilight again, whom she had tried to forget and is now a Princess.
Will she finally get the courage to ask her out or not?
Twilight even invites her on Stargazing and is going to help out on the farm, so Apple Fritter needs to decide soon..
Will the small bond she's created with Twilight break, or will something new evolve from it?
---
One of my H&H specials. Fic number five of five


Collab with SpitfiresSpitfire
I created a new ship, right?
Cover from DonnEStarside
Chapters (4)