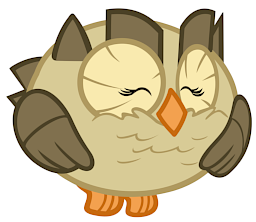 Source
This story is a sequel to Winona The Immortal Dog
---
Owlowiscious spends a lot of time thinking and trying new things. Currently he's an assistant to an alicorn princess, something he's never tried before. Sometimes being an assistant to a neurotic purple princess with a penchant for persistent productivity though, can really prickle his primaries.
A-A-Additional tags: Feathers.
Edited by: The awesome Word Worthy!
Tagged Alternate Universe because Owlowiscious is quite obviously not canonically immortal.
(I guess this counts as an 'Immortal-verse' fic, but there's no universe for this, so it's just Owlowiscious talking).
Chapters (15)