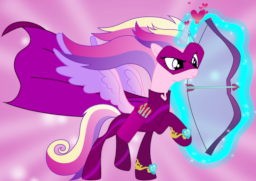 Source
Ah, Hearts and Hooves Day. A time of love between two ponies who love each other very much. A time of flowers, chocolates, kisses, and arrows. Love arrows specifically. Deciding to try a more action oriented approach this season, Cadance has donned her own superhero costume to bring love to the world with magical love powered arrows.
Will this lone cupid bring joy to the hearts of many? Or shall she only bring ruin and awkwardness?
Commissioned by Anonymous.
Edited by Jake The Army Guy and Magic Man. Thanks to Ariaannaa for letting me use the art
Chapters (5)