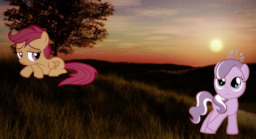 Diamond Tiara has never really known what her true feelings were for Scootaloo. After many failed attempts to hide her feelings, she decides to confront the pegasus about her true feelings.
Scootaloo has never thought very much about Diamond Tiara. She always thought she was just another bully.
When they meet, they both admit some things, and may become friends. or maybe something more.
Chapters (1)