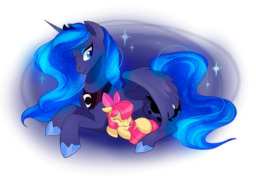 Source
If you're reading this it's because I ain't around to keep it hidden. I'm sorry you found this, I'm sorry for a whole heap of things. I'm sorry I didn't get my cutie mark a year ago with Sweetie Belle and Scootaloo. I'm sorry I still ain't gotten it. I'm sorry I've been underhoof. I'm sorry I've been so contrary. Mostly I'm just sorry for being me. I tried to be good and fit in with everypony else, I even tried to be patient but I guess y'all didn't see much of that.
I can't do it anymore. Whatever patience I did have has been used up and I'm just so damn fed up with being a worthless blank flank. Don't y'all be crying over me I ain't worth it, never was.
proofread by Jeray2000, cover art by FoxNami, and dramatic reading by creepypastasalad.
Big thanks to everyone who helped out!
Chapters (2)