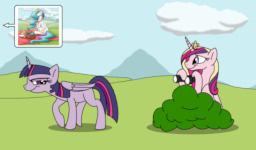 The golden rule of gambling: "quit while you're ahead."
Princess Twilight Sparkle did not heed this advice. After losing a bet, she is about to learn of the consequences the hard way, and Princess Cadence intends to enjoy every second of it.
Will Princess Celestia survive this incident? And why the hell is Princess Luna always missing at times like these?
(Further chapters are completely unrelated...)
(Original sketch of the cover art by marking. Inking and coloring by yours truly...)
("Celestia picnic" image stolen from here: link)
Chapters (4)