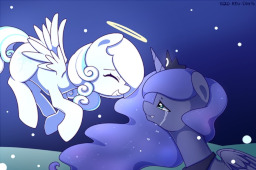 Source
1,000 years of banishment can really force a pony to rethink her life's choices. Now that she has returned, Princess Luna is starting to realize everything that she has missed since her departure, including the death of her beloved friend Snowdrop. As Luna and Celestia release Snowdrop's very first, and last, snowflake, Luna yearns to say goodbye to her beloved friend.
But doing so may prove to be more dangerous than Luna imagined.
_______
Snowdrop is (C) to SillyFillyStudios.
Chapters (1)