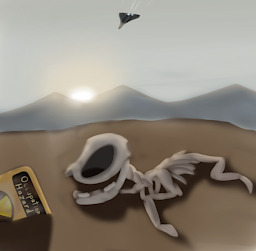 Source
A normal night of exploration goes south - quite literally - as two friends since foalhood wind up crash-landing far from their home, left with only their wits, their clothes, and their own company in a strange, new land north of Vanhoover. With a far more populated and dangerous wasteland before them, and their entrance certainly not having gone unnoticed, they race to get back home - though with their mode of transport out of commission, and the weather getting worse by the day, their chances of seeing their fathers again grow slimmer and slimmer.
Empty Quiver is a sequel to Occupational Hazards - it isn't necessary to read beforehand, but it is highly encouraged!
Now with a page on TVTropes!
Chapters (27)