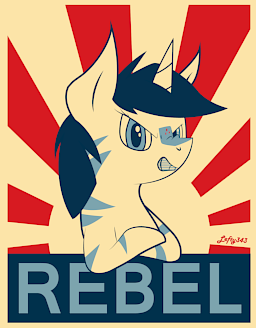 Ever had one of those days you wished you'd never gotten out of bed?
I don't. BECAUSE IM GOING TO WRING THE NECK OF THE IDIOT WHO CAUSED THIS WHOLE PONY TRANSFORMING THING!!!
My name is Emily Sugar, and roughly five hours ago I started turning into a freaking pony from MLP:FIM. It's not that I have anything against the show in general. I love the animation and the story behind it! Heck, I even created an OC! Sunstripe; half unicorn, half zebra with a yellow coat and white stripes and a chocolate mane. I never really went anywhere with the character, I wasn't obsessed with the show like other Bronies; but I did enjoy it like any other good ol' cartoon.
However, when you start turning into your creation? Yeah, that's an entirely different can of worms.
A quick Google search later, I find the idiots who caused this problem.
Now I'm on a plane to Chicago with my mom, my cousin who is also transforming, and a neighbor who is dealing with the embarrassment of becoming a behemoth sized dragon.
Our goal? Well I can't say for the others, but I'm going to leave a few bruises on these idiots who caused this.
It also doesn't help not to have hands anymore, but that's what magic is for!
Takes place in MidnightChaos'OC Tales. Enjoy!
Chapters (7)