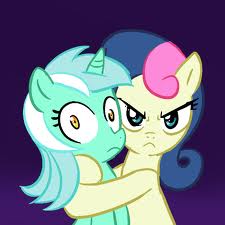 Happily married to her long time sweet heart and domestic partner Bon Bon, Lyra feels as though their relationship needs to go even further by becoming a family. Several attempts by both mares to get pregnant fail to the point of both being declared infertile. After months of trying, the only option left is adoption. Bon Bon believes a nice filly will be a worthy life adventure in itself, but Lyra takes this as an opportunity to live out her dream of being a mother while fulfilling her life long obsession. She'll have to challenge the justice system of Equestria's newest and strangest allies, ancient creatures that just happen to be a personal obsession of hers, to reach her ultimate goal.
A Tale of the War of the Fallen Race.
Note: This story is meant for my current readers and fans, to anyone else this won't make a damn bit of sense.
Chapters (20)