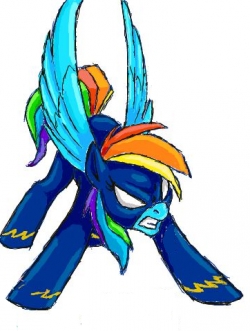 Featured 3.7.14, 6.19.14, 7.2.14, 7.8.14
See below summary for additional information
---
"Make a wish."
Rainbow Dash is presented with an opportunity to gain the skill she needs to join her idols, the Wonderbolts. However, the opportunity seems false, and she learns to accept it as such. But does that mean the wish was a lie? If not, then just whose wish is actually granted?
"You cannot hope to defeat me, dear Princess. Your Harmony lies broken!"
---
Note: This story began in July 2011, between Seasons One and Two. Show continuity has been considered, but due to constraints, the following canon is entirely ignored:
•Discord's reformation
•Twilight's ascension and coronation
•The wildlife of the Everfree Forest
•The relinquishment of the Elements of Harmony, the Tree of Harmony, and anything regarding the finale of Season Four
•All background characters that do not directly affect the plot (such as Shining Armor, Princess Cadence, Trixie, Snips, Snails, etc.)
Author: Leoshi. Co-Author: Cyros Lugoth. Featured on EQD, Star-5.
Additional tags: Adventure, Drama, Action, Dark, Thriller, Suspense, Struggle, Serious, A/U, Everypony, Rainbow Dash, Twilight Sparkle, Luna, Spitfire, OC
Chapters (21)