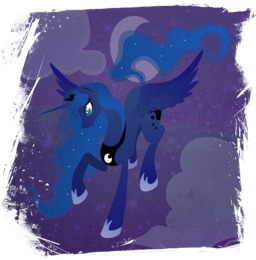 Source
This story is a sequel to The Chase
---
Reading The Chase is quite helpful in understanding what is going on in the background and is recommended...
---
Born a lunar pegasus, a strange foal seems to be changing into a unicorn shortly after birth. Called in to to investigate the magical curiousity, Princess Luna is asked to take the foal into her custody. After first mistaking the foal for a lunar alicorn, but then learning the truth, Luna agrees to take the foal into her care.
Luna learns the hard way that foal care is not her forte and the immortal alicorn is quickly laid low by the newborn foal.
Chapters (4)