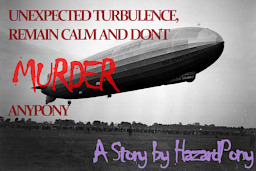 Octavia and Vinyl are both, to their surprise, flying to Trottingham on the same flight. At first, this seems like a happy coincidence, but things turn sour when the engineer on board, Cogs, is killed.
With everypony on board panicking and accusing Vinyl, Octavia helps her prove her innocence and save the rest of the passengers by unveiling the real killer.
Navigating suspects such as an unhinged weather pony, two inventor brothers, and an art dealer from Prance, both ponies have their work cut out for them.
Rated teen for m-m-murder.
Spoilers may be in the comments!
Chapters (3)