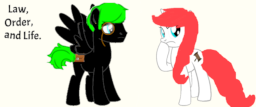 LawWing has power, money, a mansion, and a high ranking job! But this is all starting to get to him. He has no family, few friends, and pretty much works for fun! This however, his is life story of greatness and regret. To sustain a peaceful, and great land, justice must rule-LawWing
Cover art by: Harmonic Brush!
Rated T for: Mild language, mature plotline, murder scene, and weapon violence.
Sex tag for: mild sexual comments, or mentionings.
Chapters (4)