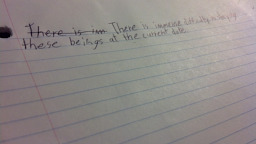 Deep in the Royal Archives survives the last remaining copy of the diary of a visionary. Straight from the horse's mouth, follow the story of a defrocked Changeling hunter determined to help ponykind.
With volition ingrained in him, Zeta Cherrypaste strives to combat the menaces plaguing Equestria alongside the Inquisition, an order founded to root out the most nefarious and pernicious forces against the kingdom.
This story is somewhat based off the conjectures and postulations in the comments section of a deviation on dA, especially the comments made by users SomeRandomMinion and BrutalityInc.
Still looking for feedback on this story! I'd love to hear your thoughts!

The audio reading is here! The links are also in the Author's Notes in each installment.
One note on the readings: I'm not so sure I like them anymore, so I'm going to redo them someday. The links should all still work until then.
Chapters (14)