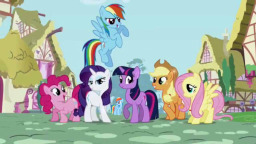 Rainbow Dash is fast.
Rainbow Dash is agile.
Rainbow Dash is tough.
Or is she?
After a failed training session, Rainbow awakes in the middle of nowhere. By the time she gets home, somepony has took her place, there are ponies out to kill her, and the mailmare suddenly seems to make sense.
Can she earn her freedom?
Or will she fail before those who think the best are made, not born?
Chapters (1)