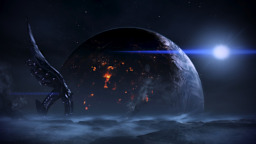 Inquisitor was the last surviving Reaper to have avoided the new solution. What does he do when his very existence becomes obsolete? Easy. Upgrade. In this case, ripping the mind of some poor schmuck, Jeff, and putting him in charge. And now the Great Reaper Jeff enters the land of Ponies and Friendship to study organics. What could possibly go wrong?
Little Idea that popped into my head while I was writing other stories and put it to print. Whether it goes on or gets passed to someone else willing will depend on the comments and reactions I get.
Disclaimer: I do not own, take credit for, or claim profit related to Mass Effect, MLP: Friendship is Magic or any likewise named franchise in this story. It is fanfiction purely made for nonprofit entertainment.
Chapters (11)