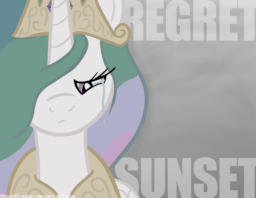 Source
The first in a three-part series, Sunset explores the origins of the Lunar Empire in an alternate universe where the Elements of Harmony failed to stop Nightmare Moon.
Five years after Luna's return, Celestia takes time to remember how Equestria became divided, and how her mistakes from eons ago greatly affected her in the future.
Meanwhile, something is brewing across the border, and its a matter of time before it is revealed...
This story is an introduction into the universe at which the rest of the anthology takes place. It explains the origins of both nations shown in the anthology.
The story makes reference to the 2000 Westwood Video Game, Command & Conquer: Red Alert 2 at points.
Art made by BlockEraser (aka Gigatoast)
Chapters (3)