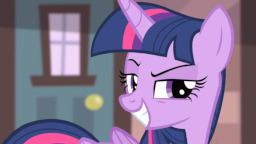 Too many suitors, not enough Twilight. How can a brilliant genius alicorn pony solve this problem?
---
Contains shipping. Contains nuts. Contents may have shifted during shipping. Do not take orally, or seriously. Use the included tools to retighten screws a week after assembly. Luna is always watching.
Many thanks to RarityEQM for quality assurance.
Chapters (1)